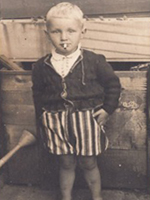 The young Korstiaan Verkade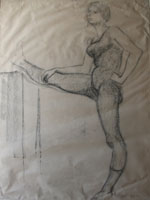 Dancer (1959)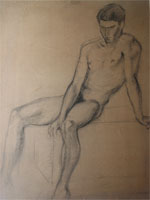 Nude (1958)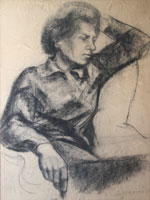 Adriana Verkade (1969)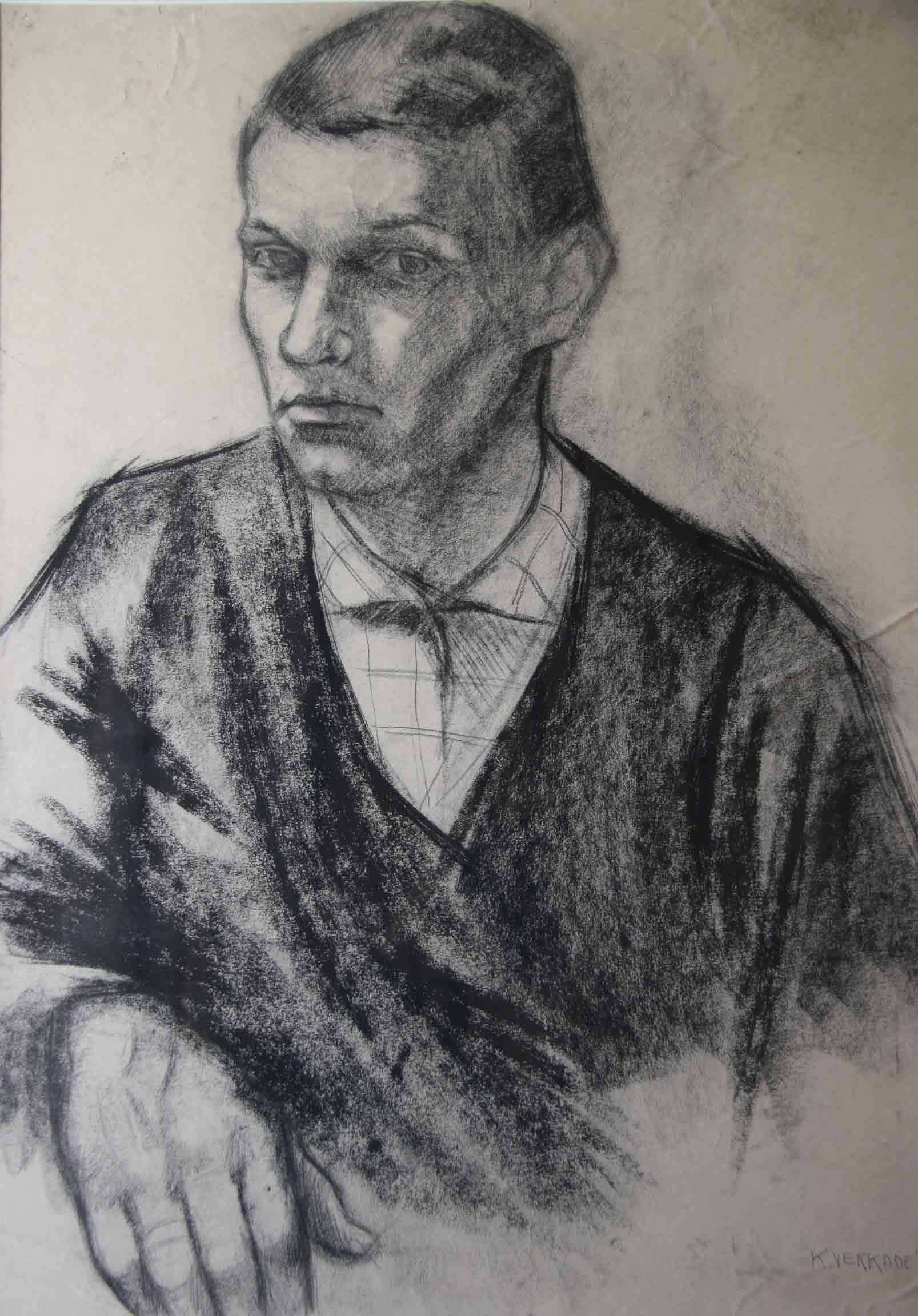 Self portrait (1969)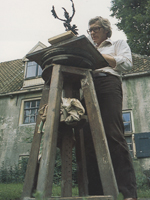 Kees Verkade in front of his studio in Bentveld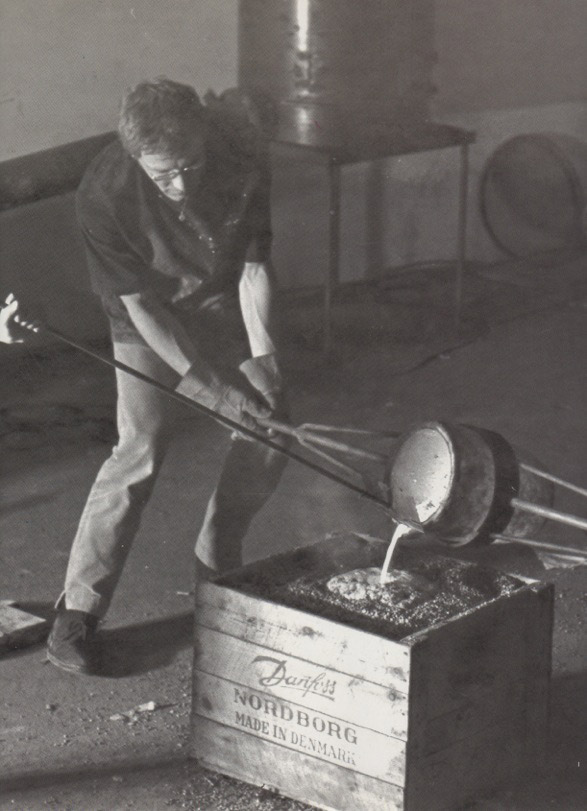 Kees as a foundry apprentice, 60's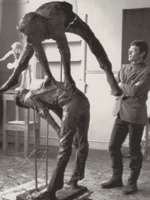 Kees in front of Haasje over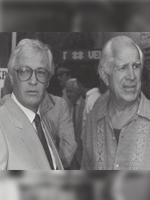 Kees Verkade and David Douglas Duncan (1990)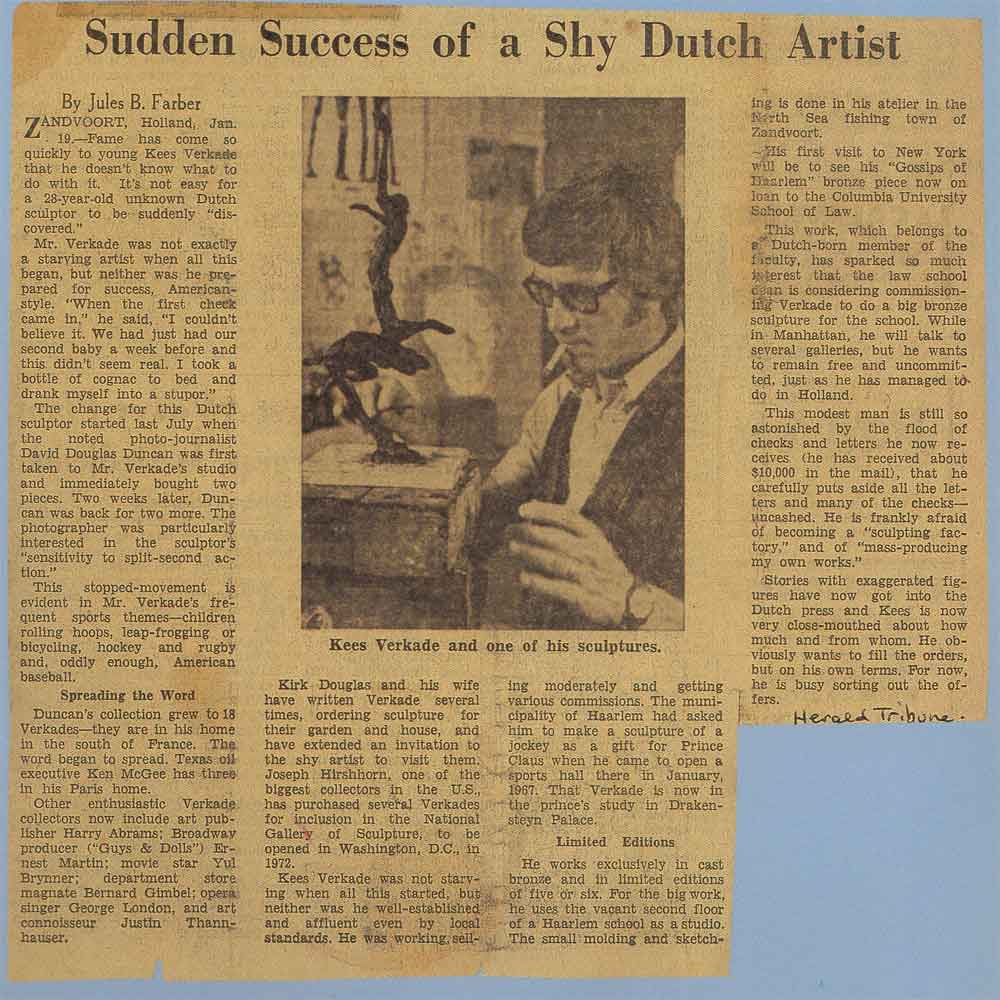 Article, Herald Tribune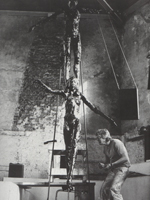 Kees Verkade working
on Koorddansers in a
church in Stompetoren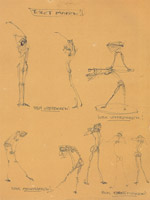 Sketch Getting ready (1970)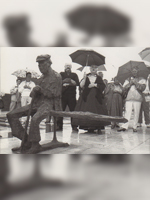 Unveiling of
De oude garnalenvisser (1969), Zandvoort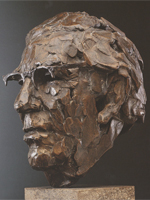 Portrait of Paul Gallico (1974)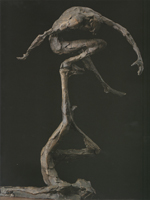 Acrobaten (1970)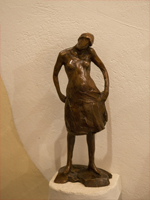 Ça se voit (1981)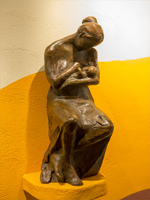 La maternité (1981)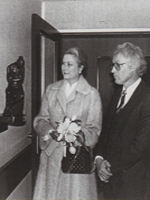 H.S.H. Princess Grace of Monaco unveils the new Maternity ward (1981)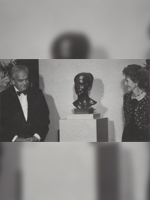 Unveiling of the portrait of H.S.H. Princess Grace of Monaco by Nancy Reagan (1986)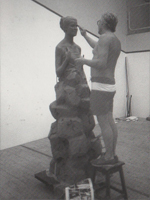 The artist working in the Palace on Princess on the Rock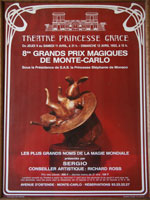 Poster of Grands Prix Magiques of Monte-Carlo »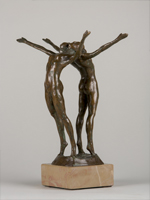 Les jumelles (1989)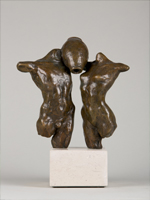 Verseau (2000)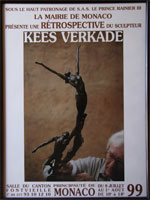 Retrospective, Salle du Canton, Monaco (1999)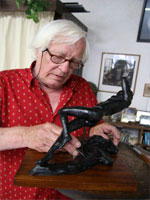 Kees Verkade working on
A gift for life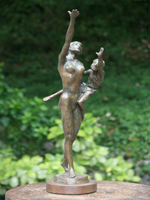 Leur futur (2013)
Biography
Birth of an Artist
Korstiaan (known as Kees) Verkade was born in Haarlem (The Netherlands) in 1941, the son of Willem and Adriana Verkade. He dreamt of working in the advertising industry as drawing had been a passion from a very young age. His parents allowed him to indulge his talents after school with Amsterdam artist Gerrit van't Net (1910-1971). With his encouragement, Verkade produced beautiful Cubist-influenced still-lives in striking shades of blue:
Stilleven 1
and
Stilleven 2
(gouaches, 1955).
But the Gerrit Rietveld Academy in Amsterdam where he hoped to train would not admit the young school-leaver - not because of his work but of his father's position as the Director of a mattress factory - too right wing and fortunate. Luckily his talent was recognised by another artist, lithographer Aart van Dobbenburgh (1899-1988) who was teaching graphic design at the Royal Academy in The Hague. As there were no available places on the commercial art course at the time, the 16 year-old Verkade was told to do a year in the sculpture department after which he could join the advertising classes. A happy coincidence that would affect the rest of his life… He enjoyed it so much that he stayed on and has been sculpting ever since.
First steps along the artistic path
Verkade's thorough academic training encompassed all aspects of the sculptor's art, starting with the basics: drawing a model, especially in charcoal. During his first year, he learnt to use the materials to which he would forever remain loyal - black wax and clay. To this day, he remains fascinated by the process of creating something from nothing. His first figures, simple and compact, seemed to form themselves spontaneously in his hands. His favourite subjects were animals and people and he stuck with them even when moving to other aspects of sculpting (
Kip, 1958
;
Merel, 1960
;
Bedelende Moeder, 1962
). When he came to work in wood and stone, he reduced the forms almost to abstraction as can be seen in
Vissen (1959)
and
Vogel Abstract (1958)
. The abstract style of his teacher Dirk Bus (1907-1978) is clearly visible in his work.
His other teacher at the Academy was Henri van Haaren (1917-) who, like Dirk Bus, had himself been tutored by the famous sculptor Jan Bronner (1881-1972). They taught the young Kees Verkade the traditional skills of sculpting. He modelled figures, mainly human, around an armature. He learned to create reliefs, which led to his first commission: the design of a plaque for a technical school in Katwijk (
Relief for Katwijk, 1960
). He also drew caricatures and illustrations for newspapers (Illustration for "De Zandvoortmeeuw", 60's).
Modelling busts also came easily to him. The people around him became his models: fellow student
Theo van Erp (1959)
and his parents,
Willem Verkade (1965)
and
Adriana Verkade (1963)
.
During the five-year training period, Verkade learnt the finest details of bronze casting - from making the plaster cast to giving a patina to the solidified bronze. Kees Verkade likes to work alone and prefers to give his own finishing touch namely chasing and the final patina. Only the casting process is done elsewhere - in the foundry Steilaaart in Rumpt, Holland, and later in the foundry Venturi Arte in Bologna, Italy.
First commissions and exhibitions
As finalist and best student of the year Kees Verkade was granted the Esso Prize - a yearly prize of 500 guilders. On the prize-giving day, Kees asked his father if he could borrow his car to transport his winning life size piece to the Academy. However someone saw him arriving in his father's bright red Mercedes 180 so it was decided that the young artist would not need the money… For the second time, he did not get what he deserved. Somehow this gave him even more strength to go forward and show everyone that he was a great artist. In his exam piece
Balspel (1963)
one could already see the essence of the work he was to produce in the 1970s. The movement is captured at the ultimate moment of tension like a snapshot.
During his first exhibition at the Vishal in Haarlem in 1964, one can clearly see from the pieces
Ruth
, the very first statue he sold,
Vrouw (1967)
,
Brevieren (1964)
,
Moeder en Kind (1964)
, and
Tante Tonia (1964)
that his main concern is posture. The following year, he married and settled in Zandvoort. A second exhibition followed in the Vleeshal in Haarlem on the occasion of which his
Loper (1968)
was bought by the Frans Halsmuseum. This purchase was the start of a series of commissions for large-scale sculptures.
By 1965, he was able to afford a small studio in Zandvoort where, from time to time, he staged his own exhibitions. Towards the end of the 1960s, he moved to a larger studio next to the studio of Willem Steijn (1911-1980) in Bentveld.
Soon after his first exhibitions, he was invited to show his works in a number of well-known galleries. In 1966, Ina Broerse presented his work in her gallery in Amsterdam's Spiegelstraat. Later that year, Verkade exhibited at the Kunstzaal Heuff in Wassenaar and in 1967 at the Stedelijk Museum in Schiedam. A year later, he held his first exhibition abroad at the Down Town Gallery in Düsseldorf, Germany.
His first monumental commission by the Haarlem local authorities was
Stadten in 1966
depicting old ladies going shopping. Many orders followed including
Vogels (1967)
for the Joannes Deo Hospital,
Paaltje springend meisje (1967)
for the Albert Schweitzer School and
Haasje over
for the Municipality of Heemstede the same year…
Sport
During this period Kees Verkade was introduced by a friend to American sports and was invited to watch some matches on television at the Hilton Hotel in Amsterdam. Although he never actually went to a live match, he still managed to capture that very moment when strength, movement and tension come together.
However, it was not until 1969 that Kees Verkade's career really took off when American photographer David Douglas Duncan discovered his work at an art market in Haarlem. Duncan was particularly struck by his black wax sporting figures kept cool in buckets of water under the stall. At the time, he could not afford to cast them into bronze until he sold the first casting. Duncan bought several pieces there and then, had them cast in bronze and took them back to the South of France :
Slagman (1969)
,
Loper (1969)
,
Estafette (1969)
,
Catcher and Umpire (1969)
.
« The Hottest Underground Scultptor »
In 1970, TIME Magazine devoted an entire article to 'the shy Dutch artist' entitled "The Hottest Underground Sculptor". From then on, commissions flooded in. The Hirshhorn Sculpture Collection Museum in Washington bought several figures. He was commissioned to design a large-scale sculpture for the Columbia University Law School in New York in memory of the lawyer Bill Donovan who, during the Second World War, was head of the OSS (now called C.I.A.). Thereupon he became Dean of the Columbia University. The statue depicts the balance of Law. Kees Verkade represented Bill Donovan as a tightrope walker with someone balancing on his shoulders. If he made a wrong decision everything could collapse. He then used an empty church in Stompetoren for a studio as the one on the Bentveld Estate was too small (
Koorddansers
- preliminary study Columbia University, New York, 1970).
Verkade's fame spread quickly. He continued the sporting theme but his figures grew thinner. Their body fat seemed to have dissolved, digested, so that they appear to consist of muscles and ligaments only. David Douglas Duncan showed them to several of his friends including Kirk Douglas and Yul Brynner who bought several pieces as well as other American collectors. In 1971, he was invited to exhibit his work at the Galerie André Weil in Paris for the first time. The sales and commissions gave him and his family – that now included two sons – some financial stability.
A trip to the United States culminated in a visit to a reserve of Native Americans. Kees Verkade was gripped by the tragedy of this once so powerful and proud people. His visit inspired a series of Native American figures which he exhibited at the Jameson Gallery in Santa Fe, New Mexico in 1973:
Van paard vallende indiaan (1973)
,
Vrouwelijke indiaan, 1973
;
Masker Bull Dancer (1973)
,
Indianenvrouwtjes (1973)
.
His own style - inspiration
His many sculptures of women encapsulate other elements such as intimacy and security.
Mother and child
was a favourite theme. The earliest versions had been produced during his years at the Academy. The solid design of his
Pregnant Woman (1966)
is seen again in the monumental work
Hanneke en haar Dochter (1970)
which was installed in a Haarlem hospital. In 1968, he produced Mother and Child, a piece radiating joy as a young mother lies playing with her baby.
As the 1970s progressed, Verkade's figures became ever leaner. He made a series of large and small fragile female nudes whose movements had been frozen whilst waking up, dressing, washing…:
Na Het Bad (1978)
. This work was shown in the Krikhaar Gallery in Amsterdam in 1977 alongside works by Marc Chagall.
Kees Verkade also sought dynamism in other subjects. Around 1970, he became interested in bullfighting and sculpted both single bulls and scenes from a corrida. In
Bullfight
he again depicted a fall - a bull tossing a toreador into the air.
At the same time however, Verkade was also driven by other emotions - more spiritual and metaphysical. In
Crucifix
, one can feel the agony in the taut body. Pain and suffering were also depicted in pieces such as
Pietà (1979)
,
Paus met crucifix (1979)
and
La punition (1982)
as well as in his later Stations of the Cross
Chemin de croix (1998)
.
At the same time however, Verkade was also driven by other emotions - more spiritual and metaphysical. In
Crucifix
, one can feel the agony in the taut body. Pain and suffering were also depicted in pieces such as
Pietà (1979)
,
Paus met crucifix (1979)
and
La punition (1982)
as well as in his later Stations of the Cross
Chemin de croix (1998)
.
A unique way of sculpting was now obvious in his work. The thin arms and legs were becoming longer and longer emphasising the wiry effect. There had also been a change in the way Kees Verkade applied the wax to the armature. It seemed as if he hurriedly flattened thick patches and, sometimes, whole clumps of wax to the armature thus giving each sculpture its "signature". The visible speed of their execution making them appear unfinished was akin to the major impressionists of the late nineteenth century or to Giacometti. He used the same technique in several monumental commissions such as
Girl on a Spacehopper (1973)
in Zandvoort, The Netherlands.
The first signs of this development were already to be seen in
Two old Women on a Bench (1970)
, the smaller version of which served as a preliminary study to a large commission in Drachten, The Netherlands.
Nikkelen Nelis
, the character played by famous cabaret artist Wim Sonneveld, was placed at the new Wisseloord studios in Hilversum, The Netherlands, in 1977. The humorous undertone of the 1960s is also clearly present in these works.
New life – New horizon
Due to problems in his private life, Kees Verkade now often stayed with his American friends in the South of France and Monaco. Through his friendship with writer Paul Gallico, he was to meet Monaco's Princely Family. Princess Grace invited him to the theatre and Prince Rainier asked him to attend the 'International Circus Festival'. Verkade had always been fascinated by acrobats but now he developed an interest in clowns. With a keen eye for their singular personality, he managed to combine their unhappiness and disarming jollity in a number of sculptures of famous clowns such as
Grock (1975)
,
Charlie Rivel (1975)
and Marcel Marceau (
Naakte clown, 1977
;
Pierrot en clown, 1979
).
During this period he met Paul Gallico's stepdaughter, Ludmila von Falz-Fein who became his second wife in 1979. A new theme in Verkade's work at the time was dance with which his wife had strong ties. This subject also allowed him to display the same elements as in his acrobats: concentration, balance and tangible underlying tension as in
Eagle Dancer (1982)
. Kees Verkade who by now had settled in Monaco produced endless variations of dancers, both individual figures and pairs. Since he preferred to work entirely alone in his studio, he generally took photos of rehearsals to use as preliminary studies. Occasionally the dancers posed for him in his studio.
In the 1980s, Verkade's dance sculptures symbolised the happiness he had found in his second marriage. When his new wife became pregnant, he was inspired by the miracle of new life and produced a series of sculptures entitled "Geborte in Brons":
La consolation (1977)
,
Nous deux (1980)
,
Son pardon (1978)
,
L'attente (1981)
,
Premier Pas (1987)
. At the end of this cycle he shows his daughter – Casmira - taking her first faltering steps into the grown-up world:
Mon été
in 1982.
Portraits
Verkade alternated his free work with all kinds of portrait commissions. He had already proved himself a master of portraiture back in the 1960s with busts of
Sir Winston Churchill
(in the Churchill Suite, Hotel de Paris, Monaco) and Toon Hermans among others. Later, he immortalised in bronze leading lights of the social, artistic and commercial world in both Monaco and the Netherlands. Generally, he spends a great deal of time studying his subjects' physiognomy in photographs until all their features are engraved in his mind at which point the images flow through his hands onto the clay.
The artist was struck by to the strong features of Prince Rainier III of Monaco and presented his portrait to him on the occasion of his birthday as a token of gratitude (
H.S.H. Prince Rainier III, 1981
). Verkade also felt immensely honoured when asked to portray
Princess Grace of Monaco (1983)
. He made portraits of
W.B. Yeats (1987)
and
Oscar Wilde (1992)
for the Princess Grace Irish Library, Monaco. Writer
Paul Gallico (1974)
, pianist
Arthur Rubinstein (1982)
and conductor
Riccardo Muti (1991)
all feature in private collections. Back home, his portrait of
H.M. Queen Wilhelmina (1987)
was placed in the Council of State Building in The Hague in 1989. Ten years later, he was to portray her again –
warlike in her shapeless coat
– inspecting the troops in Noordwijk aan Zee on April 4th 1940 arriving by sea from England.
In the 1980s, Kees Verkade's work included bronze statues of artist
Anton Pieck
, actor
Ton van Duinhoven
, and writer and columnist
Simon Carmiggelt
, on display in public places.
But in the 1990s he turned his attention to famous theatrical personalities such as
Willem Nijholt
and
André van Duin
as well as producing a
self-portrait (1981)
and portraits of his own family:
Ludmila (1981)
,
Casmira (1985)
,
Ludmila dormant (1980)
.
In 1997, he modelled his daughter in clay. As he felt the likeness was not accurate enough, it was not until three years later that he came across it again and to his astonishment realised that his daughter had grown into the sculpture. Somehow he had foreseen his daughter as she would look in the future. Even though the clay had dried and cracked, he decided to cast it in bronze giving it the appearance of a piece from classical antiquity (
Casmira, 1997, clay and bronze
).
The Principality of Monaco
It is impossible to wander around the Principality of Monaco without coming across works by Kees Verkade.
Les Premiers Pas (1987)
has pride of place outside the maternity unit at the Princess Grace Hospital,
Invitation (1979)
is next to the ornamental pond in the Jardins Saint Martin on the Rock, whilst
Les sportifs (1993)
stands proudly outside the Louis II stadium in Fontvieille. However, the most extraordinary commissions are those he made for Prince Rainier himself. When Princess Grace passed away in 1982, the Prince asked Kees Verkade to create a statue of the
Princess on the Rock (1983)
. He was offered a space in the Palace to work on this creation far from prying eyes. This piece now stands in a rose garden created in her memory.
For the 700th Anniversary of the Principality of Monaco in 1997, Verkade made a number of preliminary studies of
François la Malizia
, the founder of the Grimaldi Dynasty who, disguised as a monk, captured the strategically located rock. One of them was chosen to stand, 2m20 high, on the square in front of the
Princely Palace
.
When Prince Rainier of Monaco celebrated his Golden Jubilee in 1999, he was presented with
Inspiration (1997)
— a monumental work consisting of three figures in which the female figure, held aloft by two men, symbolises the driving force behind all labours whether those of a prince or of an artist.
Verkade also produced many smaller works. He designed trophies for the winners of the Princess Grace Foundation-USA annual Awards. The Princess Grace Humanitarian Award which is given out every two years by the Ireland Fund of Monaco, the 'Festival International de la Magie de Monte Carlo' (Lapin au chapeau (1991), Junior Jury Prize; Baguette d'Or (1995), First prize) and the best artist of the annual 'Festival International du Cirque de Monte Carlo' (Clown met wereldbol, 2000). It comes as no surprise that his most recent circus trophies are gold, silver and bronze clowns - a glance back on his earlier circus figures.
Happiness in movement
Circus and dance remained his favourite sources of inspiration throughout the 1980s and 1990s when it came to expressing movement, tension and balance. Jugglers, tightrope walkers and acrobats appear in all sizes although their form has changed since 1970 :
Le cirque (1989)
and
Les antipodistes (1991)
.
It seems as if Kees Verkade's now harmonious life is reflected in the modelling of his sculptures which are much smoother and more rounded than in the past. Ballet dancers are captured either at their most dynamic level or staying still and concentrated:
Le danseur (1997)
,
Pas de deux (1989)
. Intimacy and security, two other aspects of Verkade's work, are reflected in sculptures of those closest to him. Women are central to both themes, either loving, coquettish, swirling around the arms of their partner or embracing their child:
Le réveil (1984)
,
Le ciel enfantin (1992).
In search of himself
Despite his success, after forty years Kees Verkade was beset by a kind of artistic restlessness. It was his friend, actor Ton van Duinhoven who suggested he look elsewhere for inspiration. On a family trip to Paris, he was once again struck by the unrefined beauty of the torsos produced by great sculptors of the nineteenth century such as Rodin, Maillol, Bourdelle and Claudel. In their unfinished aspect they suggest an enormous sense of power.
Back home, in the autumn of 1997, colourful gouaches of torsos seemed to flow from his hands. Hugely expressive, they appear to burst from the paper. Verkade soon turned to producing three-dimensional torsos for the first time in his career. Although this was a completely new beginning, there is something very familiar about them. Typical Verkade elements like strength, balance and movement are unmistakably present in the human figures, mostly depicted in pairs, embracing or supporting each other representing familiar themes like love, sport and spirituality:
Les danseurs (1998)
,
Son support (2001)
,
L'engagement (1998)
.
Now that the expression reflected in the position of arms and legs is no longer there, it is more than ever left to the specific twists and turns of the body. Muscles are again visible. The new work requires greater effort on the part of the observer. With only the suggestion of a head or arms, the viewer has to complete the creative process himself. Occasionally Kees Verkade will add something to guide his public as in
Résurrection (1997)
. An angel's wing above the torsos suggests the resurrection element. Kees Verkade re-explores some of his earlier subjects as in:
Le baiser (2008)
,
Les retrouvailles (1998)
,
Crucifix (1998)
.
In 1998, when Kees Verkade's statue of
Louis Couperous
("If I am anything, I am a son of The Hague.") was unveiled on the Lange Voorhout in The Hague, the first exhibition of his torsos took place simultaneously at the old artists' association Pulchri Studio nearby.
Recognition
To mark his fortieth year in sculpture, Mayor Wim Deetman presented him with a royal distinction. H.M. Queen Beatrix of The Netherlands made him Knight of the Order of the Dutch Lion. A year later, the Mayor of Monaco offered him a retrospective in honour of his forty years as an artist; the exhibition took place in the Salle du Canton in Monaco.
In 1999, Prince Rainier of Monaco made Kees Verkade Officer of the Order of Cultural Merit and Officer of the Order of the Grimaldis in honour of his life work.
A new millennium
After several years of incessant renewed creations, Kees decided to return to his original style of full bodies as it brings together a subtle balance oscillating between strength and serenity. He could no longer express himself fully through torsos only and needed limbs to incarnate a touch or an embrace, a movement or sensations.
He has since been inspired by his everyday life. His couple is tangible in:
Equilibre à deux (2003)
,
Son soulagement (2007)
,
Engagement (2008)
,
Circle of Love (2010)
Through discussions, meetings and tragedies of life:
Why (2006)
was inspired by 9/11;
A gift for life (2010)
was made at the request of his daughter to create a statue to sell on auction for the benefit of an eponym association - for him, a child is the supreme gift:
La renaissance (2011)
was commissioned by a couple for their very sick daughter who overcame her illness;
La confiance (2012)
, embodied by a man and a woman is the result of a commission by a Dutch bank for their customers. An important notion when dealing with a bank. Finally,
L'arche de l'amour (2013)
is inspired by an association aiming towards peace on earth for which his daughter is working.
Kees Verkade passed away on December 29th 2020 in the Principality of Monaco. His last masterpiece called Salutifera Unitas was ordered by the Foundation Helden van de zorg in order to thank and support the Covid19 medical staff.